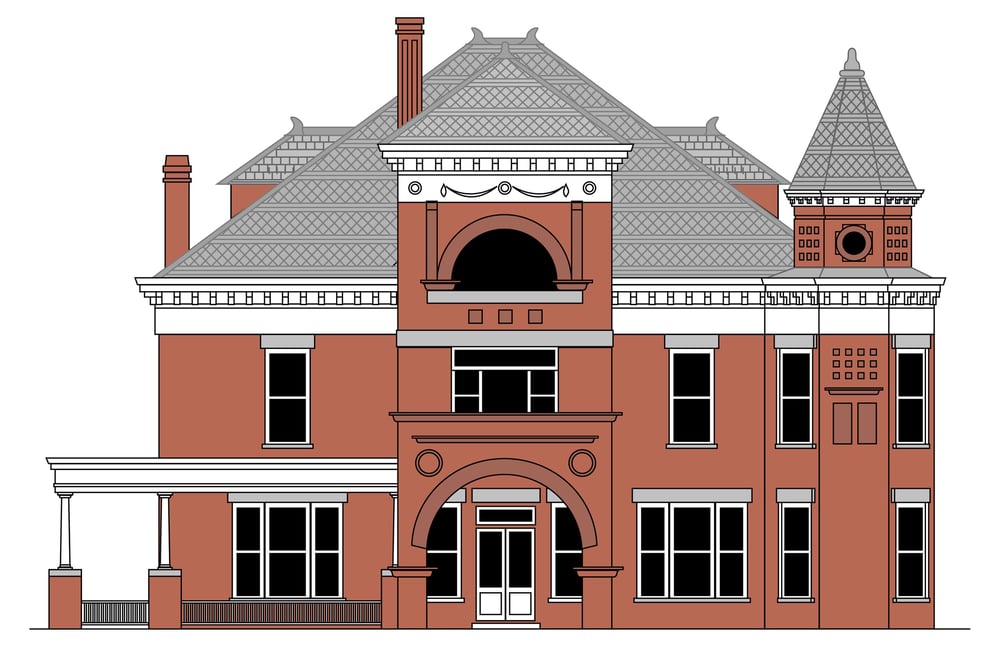 The Dunnington Mansion Foundation
---
The Dunnington Mansion Foundation is a registered 501c3 nonprofit organization.

Formed by history enthusiasts and lovers of forgotten homes. We are dedicated to preserving the history of Poplar Hill and with luck, the mansion itself.

The future of the mansion is in limbo. At the end of 2021 it and the surrounding 400+ acres sold to a group of local investors. These current owners are looking to sell the entire project to a national developer. It is our hope that by raising awareness we can protect this historic property. Together we might be able to save Poplar Hill and its history.

We Need Your Help!

We are currently raising money to cover website and legal expenses and to help fund the efforts to save the mansion. Hopefully, one day, we will be able to launch a full-scale fundraising campaign!

If you would like to be a part of this amazing and ambitious project please donate today. Donations are tax deductible. No amount is too small and EVERY LITTLE BIT HELPS!!

Any funds beyond the needs of the Foundation will be donated to the Farmville-Prince Edward Historical Society.

If you have questions, comments, or are uncomfortable donating through a digital platform please feel free to contacts us below!!

Heather Beach (President)
Heather Beach is the founder of the Dunnington Mansion Foundation. She fell in love with the beauty and the tragedy of Poplar Hill in 2021. This website she created is dedicated to preserving the history of the house and the people who called her "home".

Bio: "I am a full time small animal veterinarian, graduating from the Virginia-Maryland College of Veterinary Medicine in 2005. I live with my husband and two small children in the Shenandoah Valley of Virginia. I love historic properties and Poplar Hill is very close to my heart."
---
Ryan Murtagh (Secretary)

Ryan is a photographer who also fell in love with the beauty of this mansion. He was the first to agree to help form the DMF and try to make this dream a reality.

Bio: " I'm a Richmond based photographer that fell in love with abandoned and forgotten places. I joined a Facebook group of like minded individuals and shot a multi-part series on the "Dunnington Mansion". This attracted the attention of Heather Beach and thus the Dunnington Mansion Foundation was born!
I'm self taught in the art of photography using role models like Taylor Jackson and Peter McKinnon to inspire my eye. In 2017, I started my professional career that has taken me to so many wonderful places and allowed me to meet some of the best people.
I'm big on legacy and much like this beautiful historic mansion, I hope to leave a legacy behind that helps inspire others to follow their passions."
---
John Prengaman (Treasurer)

John's history with Poplar Hill dates back 20 years when he was hired to help make it the crowning jewel of the Manor Gold Course. Fortune was not in favor of this fate for the mansion. Today, through this organization John is working to make that lost dream a reality.

Bio: "After college I married my wife Chris and started a career in the wholesale food industry, spending twenty five years in sales, marketing, purchasing, private label product design and direct importing.

I then decided to get into the golf industry, getting my PGA professional certification and working as a Director of Golf as well as a General Manager at two different facilities in Pennsylvania. Five years later I was presented the opportunity to come to Farmville, Virginia and oversee the final construction of the Poplar Hill Golf Club, now named the Manor, and opened the course in June 2006 as the GM.

In 2012, I was hired as the Facilities Director at Hampden-Sydney College until I retired at the end of 2020. After retiring, I took on the role of construction manager for the new Pauley Science Center project at the college.

I am looking forward to spending quality time with my three children and eight grandchildren. "
---
Ann Shields Stone (Board Member)


Ann is the newest member of The DMF. We are thrilled to have a representative of the Dunnington family and relative of India Dunnington on the board.


Bio: "I am the great-granddaughter of India Knight and Walter Grey Dunnington, whose daughter Lucie was my grandmother. My brothers and I grew up spending many weeks of the summer in Farmville with our parents Ann and Watt Shields throughout the 1950's and 1960's. Poplar Hill, of course, is a large part of those summer memories."
---